At the Monticello Public Library, we believe that early literacy goes beyond reading stories and knowing the ABC's. There are 6 pre-reading skills that children need in order to get ready to read. IT IS NEVER TOO EARLY OR TOO LATE to work on these skills and they are easy things that you can do everyday with your child. 
 Talk: talking is how children learn spoken language. They start learning at birth.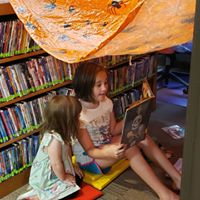 Sing: singing (and rhymes) helps children to hear smaller sounds in words.
  Read: reading to kids helps them understand how printed stories work. Reading also helps to build vocabulary.   It is      NEVER too early or too late to start reading. 
  Write: scribbling and drawing lets children represent ideas and and words. 
  Play: playing allows kids to discover, explore and understand the world around them. 
 In addition, we have partnered with the Bay Area Discovery Museum on reimagining what school readiness looks like in early childhood. There are a lot of fun, great activities to help with developing early literacy skills that are free and fun for all ages.