Your library is still here for you. Monticello Public Library is committed to providing patrons expanded access to online resources and safe access to physical items.
Scheduled times for picking up filled holds will be from Monday through Thursday from 12pm to 6pm. We may expand our hours and days at a future date.
To support social distancing efforts, the library is operating with limited staff. Staff will fill your holds placed online as quickly as possible. Thanks for your patience.
Follow these three easy steps to pick up items outside of the library.
Step one: Place your items on hold.
- Search our catalog LINKcat for items currently available at the Monticello Public Library.
- - Be sure to set the pick-up location as Monticello when you place the hold.
- - There is currently no delivery of items between libraries.
- Call us at 608-938-4011 or email us at mntpublib.info@gmail.com Monday through Thursday from 10am to 6pm and we will place the holds for you.
- To allow for fair access of resources, we are limiting patrons to 10 items per account per week.
- You will be notified via email, text. or phone when your hold is ready (as per your account preference).
Step two: Call the library and tell us you're ready to pick up.
- After you receive notification, call us at 608-938-4011 when you are ready to pick up your holds.
- For best service, be sure to have your library card barcode number available.
- - If you are picking up items for other members of your immediate household please have their information on hand as well.
- Staff will pull your items, check them out, and place them on a table outside of the building. Look for a slip with the first three initials of your last name attached to your items.
Step three: Pick up your items.
- Park in the backside of our building in our parking lot.
- Practice social distancing while picking up your items.
- Holds will be on a table outside of the building for contactless pick-up during your scheduled time.
- Your items will be labeled with your hold slip and the first three initials of your last name.
- Pleae return library items in our dropbox on the east side of our building.
- - This is due to the inherent risk involved in cross contamination and health concerns. Further research is required to evaluate this service.
- Grab your items and enjoy!
- Optional: Help us spread the word about our new service by calling a friend or writing a quick post online. We are in this together!
Weather will play a factor as to whether we can offer curbside pick-up. If it is raining or other inclement weather, we may need to suspend the service for the day. We will make an effort to contact all of our pick-ups for the day to reschedule and will post signs on our doors, website, and Facebook page.
Remember, Monticello Public Library remains closed to the public. Our entryway, restrooms, computers, and other spaces will not be accessible. 
Due dates will be automatically extended to July 1st and will be reevaluated as the date approaches. We are proud to be a fine free library so take your time returning items.  
If you need further assistance, library staff are here to help. Feel free to call or leave a message and we will return it as soon as possible at 608-938-4011 or mntpublib.info@gmail.com.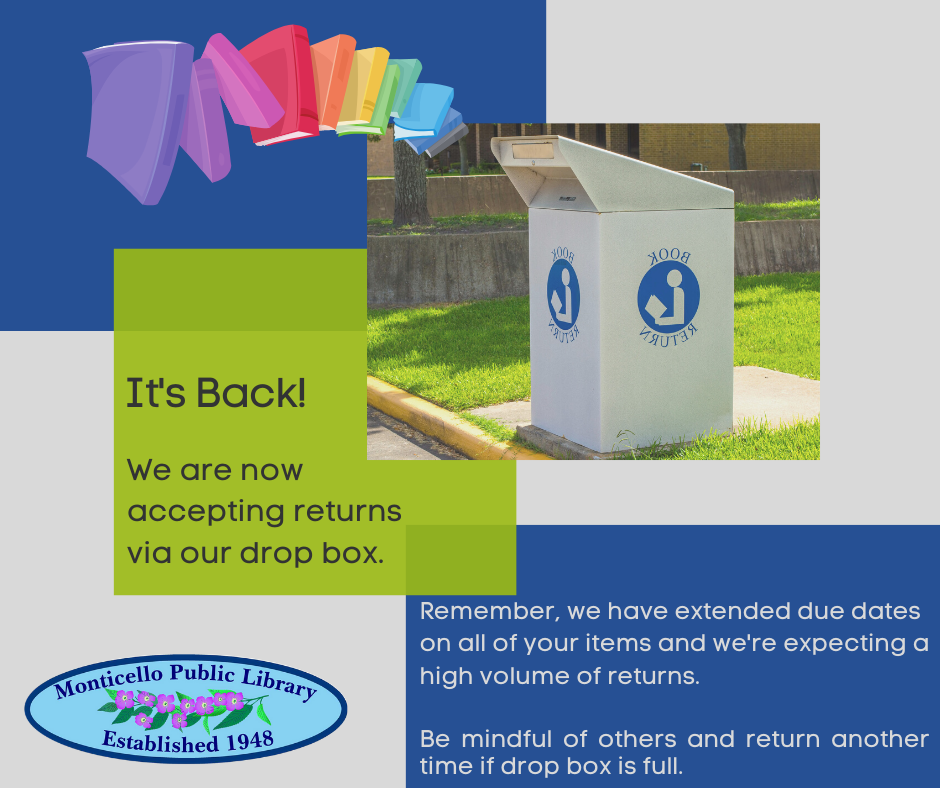 This page was last updated: 5/26/2020